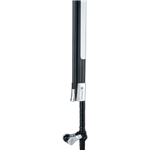 Sound Rigging Services
Harken Carbo Racing Foil- Kit
Harken Carbo Racing Foil
The engineering resins in these strong, lightweight head foils offer significant advancements over the weaker PVC materials used by other manufacturers. The low-friction twin headsail grooves are ultra-smooth, allowing hoists, douses, and headsail changes to be easily and efficiently executed. Impact resistance is unmatched, with far less foil damage from loaded spinnaker poles, especially in cold weather. Heat has little effect on stiffness. 

Foils are UV protected and easy for the trimmer to see. For mast-up installation, simply uncoil the foil and snap onto the stay. 

Aluminum Chafe Guard 
An aluminum chafe guard keeps spinnaker sheets from damaging the foil during high-speed jibes. Testing shows this guard weighs the same as aramid fiber or composite, and is impervious to wear, unlike UHMW plastic tape which wears away quickly. A Harken chafe guard is included free with the purchase of a 7000, 7001, or 7002 kit.
Maximum wire Ø (in)
1/4 in
Maximum rod Ø (mm)
6.35 mm
Maximum rod Ø (dash)
-10 dash
Maximum wire Ø (in)
5/16 in
Maximum rod Ø (mm)
8.38 mm
Maximum rod Ø (dash)
-17 dash
Unit 2:
Maximum wire Ø (in)
3/8 in
Maximum rod Ø (mm)
10.31 mm
Maximum rod Ø (dash)
-25 dash
---
Share this Product
---
More from this collection